I'm Shira Glassman and I live in north central Florida. Florida is a huge state and not all of it is coconut palms, crowded beaches, and theme parks. If you go far enough north, you get to sprawling oak trees with scraggly gray Spanish moss dripping from their branches, and just about an hour into that area is where I live. Gainesville is a university town full of progressives, hippies, and sports fans. I grew up in the coconut palm area, though.
What's your favorite guilty pleasure?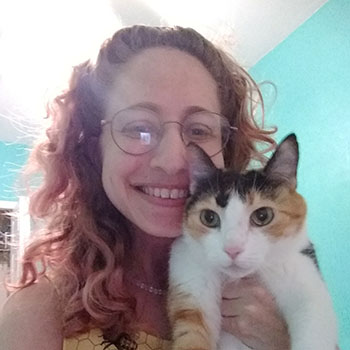 I feel conflicted about the term guilty pleasure, but if you're asking what kinds of self-indulgence I enjoy, I have sexy fantasies about opera. I say hello to every cat I meet, from strays to other people's pets. I love crispy chicken skin. I love the part of adulthood that says you can buy a jar of maraschino cherries and just eat them without having to put them on ice cream or in drinks first.
Who's your favorite superhero, dead or alive – and why?
My favorite superhero changes around, but I suppose I will always have a soft spot in my heart for Magneto. He's more of an antihero but he's a safer choice for an answer since some of my other favorites shift personalities and priorities a lot depending on who's writing them.
What's your favorite book or TV show?
Some books I've enjoyed recently include A Closed and Common Orbit, which is the riveting, emotional story of an illegal android learning how to become autonomous and finding her place in a futuristic world, and Peter Darling, the trans Pan/Hook romance that knocked us all over this past spring.
Tell us about your short story in Queerly Loving
"Gifts of Spring" is about a young woman whose first job straight out of magic academy lands her in hot water when she doesn't understand royal politics. The king and queen try to involve her in their plots against each other and she's too good and innocent to understand. She flees to Bavaria and tries to hide in the crowd, in the process making friends with a Jewish street performer whose life she saves from an angry mob.
My inspiration for this was an acrobat and knife juggler at my local medieval fair, where I sometimes perform as a street musician. I also wanted an excuse to celebrate my memories of Munich in the springtime, and put a character in a big fancy Baroque dress. Lastly, Rosamund is trans, which is how she discovered she had magical powers – one day as an adolescent, she suddenly gained the ability to transform into the way she wanted to look.
Shira Glassman is a bisexual Jewish violinist passionately inspired by German and French opera and Agatha Christie novels. Her best known works are the Mangoverse, a series of fluffy fantasy novels centered around women that has made it to the finals multiple times in the Bisexual Book Awards and Golden Crown Literary Society Awards. She lives in north central Florida, where the alligators are mostly harmless because they're too lazy to be bothered. Shira is on Twitter at @ShiraGlassman.