I'm Teresa Theophano and I live in Brooklyn, New York.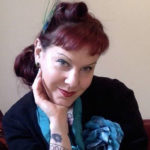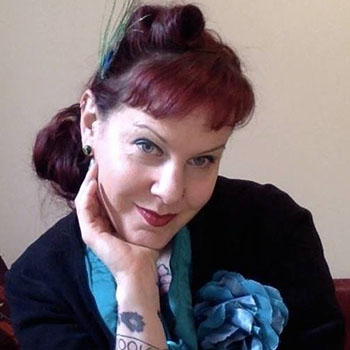 What's your favorite guilty pleasure?
My favorite guilty pleasure is Gourmet doughnuts! So many cities have shops specializing in these and I can't get enough of them. I joke that doughnuts are my kryptonite.
Who's your favorite superhero, dead or alive – and why?
Anyone standing up to fascism, past or present, is a superhero to me. We need them all. We always have.
What's your favorite TV show?
I'm obsessed with the now-defunct TV show Parks and Recreation because it never fails to make me laugh, even when I'm feeling my worst. Plus Amy Poehler's character Leslie Knope embodies a kind of enthusiastic nerdiness that reminds me pleasantly of my own.
Tell us about your short story in Queerly Loving
In "Hunt and Peck" I wrote about an early-adolescent girl who becomes a local typing champion (no, that's not really a thing people do, but I loved the idea that it could be). She falls in love with a typing rival – a tomboy from the wrong side of the tracks. The story is set in the '80s, when I was a teenager myself, and I included as many details of the fashions and music of those days as I could. They were, after all, instrumental in my own coming of age.
Being a really fast typist with a lifelong weakness for tomboys, butches, and masculine-of-center queers, I found that this story came easily to me, and I had a wonderful time writing it. It was especially fun to describe the first date I wish I'd had!
Teresa Theophano is a New York City-based social worker and freelance writer. She is working on a full-length memoir as well as a volume of suicide prevent in LGBT+ communities. She is also the co-editor of HEADCASE: LGBTQ Writers and Artists on Mental Health and Wellness (upcoming, Oxford University Press), and editor of Queer Quotes (Beacon Press, 2004). Teresa e co-founded the NYC Queer Mental Health Initiative, and the LGBTQ Camaraderie Project, and is on the board of Trinity Place Shelter for LGBT+ homeless youthConnect with Teresa by email on.