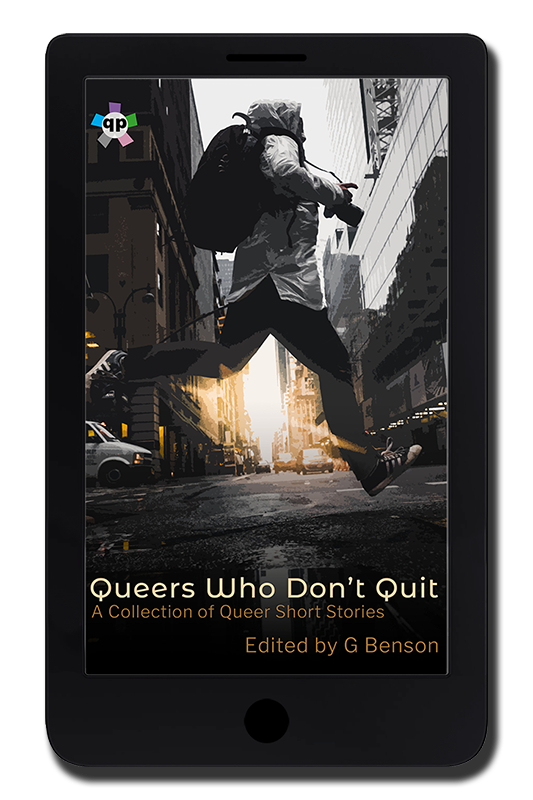 Are you ready for a queer story experience like no other?
Queers Who Don't Quit is hitting the shelves as queers from across the spectrum stand up and square up in our newest collection of incrediblly queer and just plain incredible short stories!
Order Now!
About the Book
There are times we all just need to forge onwards—or upwards. We can find that strength within ourselves, or people around us help. Sometimes, it's both. In Queers Who Don't Quit, queers across the spectrum hurdle the big, the small, and the unfathomable.
A cowboy and his boyfriend flee across the Martian desert with their stolen robot. Back on Earth, two aromantics bond over their shared love of pop culture. A trans woman finds herself between a rock and a hard place when someone from her past threatens to destroy her future. Space Boy remembers what it's like to be in love with another boy, and two women have more in common than they think as they fall in love while cosplaying their favourite TV show. Queer men frolic at a gay beach balanced on sands of time. A bisexual, a widow, and a murderer walk into a bar–just wait for it, there's a punchline. An enby down on their luck gets an offer from a goddess too good to refuse. In 1930s London, split ends are queerly healed. A queer college student seeks to rekindle a dying friendship during a trip to Paris. A trans teacher takes a stand against bigotry and finds love in the process. Love is found amongst giddiness, hard edges, and a darkly passionate theater. An ace vows to finally come out to her sister, and back in space, an arranged marriage connects two queer men. A woman discovers opening a queer bookshop isn't all rainbows and sunshine. Adrift with her infantry company in one war, a trans warrior must face the ghosts of another. And on their first day back at work, someone can be the person we wish we'd met as a kid.
Join us in these queer stories of hope, resilience, and perseverance!
---
Table of Contents:
"A Government-Sanctioned Marriage" by Cameron Van Sant
"This Is What You Get" by Evie Riojas
"Actually" by Tabitha O'Connell
"First Day Back" by A.P. Raymond
"Werewolf Blues" by Eve Morton
"Crossroads" by James Penha
"First Cut" by Elna Holst
"Version of Love" by Ayelet Enisman
"Punchline" by G Benson
"Help Wanted" by Ashton Laviolette
"Under the Valley of Stars" by Alexis Ames
"Space Boy" by Cal Benitex
"The Path to Truth" by Aila Alvina Boyd
"So She Chose" by Zoe Brook
"Some Things Are More Important" by Addy Long
"All That Remains" by Nyri Bakkalian
"Travelling Companions" by Tabitha O'Connell
---
Disclosure of Material Connection: Some of the links in the page above are "affiliate links." This means if you click on the link and purchase the item, I will receive an affiliate commission. I am disclosing this in accordance with the Federal Trade Commission's
16 CFR, Part 255
: "Guides Concerning the Use of Endorsements and Testimonials in Advertising."