Here you can read about the team that makes up Queer Pack. Some of us have been part of Ylva Publishing for quite a while now, others are new to the pack. While we feel we represent a lot of different genders, political views, nationalities and life experience, we are aware that we do not represent all sections within the queer community be it regarding ethnicity/race, class, and/or (dis)ability. As there are so many facets of queer life, we know we can't ever represent all of them. Nevertheless, we would like to offer a space for all queer people to feel safe and find the best queer books out there.
We are always looking for more sensitivity readers and appropriate guest bloggers. If one or both of these sound like you, please contact us: contact[at]queer-pack.com.
Now, on to the team!
Astrid Ohletz | CEO of Ylva Publishing, Head of Queer Pack
Publisher Astrid Ohletz has an education as a library assistant but worked as a legal secretary for one of the partners of a large, international law firm for more than ten years before she became a publisher. Publishing combines her love of books with her understanding of legal and economic issues. Being able to publish books in which subtext is maintext is a dream come true for Astrid. In her free time, she writes stories under the pseudonym Emma Weimann.
Astrid identifies as a feminist and lesbian with a sense of humor. She is passionate about literature being available for everyone within the queer community, and thus Queer Pack was born.
Contact Astrid: ohletz@queer-pack.com
Facebook: www.facebook.com/astrid.ohletz
Twitter: www.twitter.com/astrid_ohletz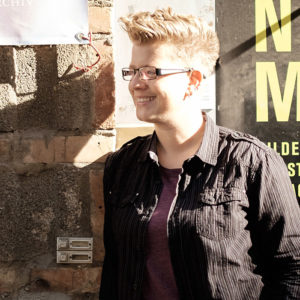 Sam Achilles | Crossmedia Expert
Sam loves doing almost everything involving new media, e.g., layout, formatting, and using all kinds of weird Adobe software. Other than that, they like watching US-American television, especially fictional drama and sitcoms, and especially with LGBTQIA+ main characters. Growing up in North Germany, Sam has lived near Frankfurt am Main for quite a few years now. Sadly, they miss the ocean very much, so if you want to make Sam happy send them to a peaceful location overlooking the sea.
Sam identifies as non-binary, genderqueer, a feminist, a TV junkie, a spoonie, and a chocoholic. While rather reticent in "real" life, they love their private queer Twitter filter bubble.
Contact Sam: achilles@queer-pack.com
Facebook: www.facebook.com/sachilles
Twitter: www.twitter.com/sam_achilles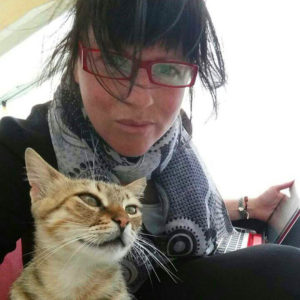 G Benson | Commissioning Editor & Author
G Benson aka Gabby is a travel lover, a word lover, and very much a cat lover. You can normally find her with her laptop, a coffee, and most likely procrastinating. Originally from Australia, she now lives in Spain, eating all the tortilla available, and desperately missing the ocean. But the mountains are close by, and a love of the ocean is quickly being challenged by a love of the snow. She can be found falling down mountaintops and pretending it's snowboarding.
Gabby is the author of two books featuring lesbian and bisexual women. Passionate about diversity in every facet of life, Benson is delighted to be a part of Queer Pack. She herself is a bisexual woman who is starting to realise pansexual is a much more appropriate term.
Contact Gabby: benson@queer-pack.com
Facebook: www.facebook.com/authorgbenson
Website: www.g-benson.com
Twitter: www.twitter.com/authorbenson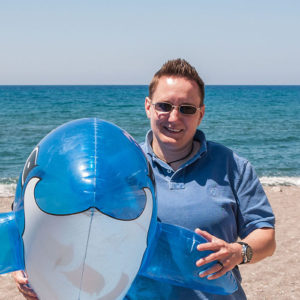 Katja Kohlsdorfer | Volunteer Queer Consultant
In her other life, Katja is a banker with heart and soul. She loves numbers, regularity, and the smell of paper. In compensation for such an orderly life, she very often escapes into the fantastic world of TV shows and, even more often, into the world of a damn good book. It was only a matter of time until she found her way to Ylva Publishing. The welcome as a reader was hearty; however, it didn't take long until simply the reading of books was no longer enough.
As a realistic person, Katja was aware her own writing would, unfortunately, always read like a business letter. What to do? Luckily, due to her passion, it was then that she was discovered as a beta reader for various Ylva authors and a perfect candidate to do submission reading.
Katja identifies as feminist, lesbian, butch, non-binary, and genderqueer. And that journey will go on…
Contact Katja: kohlsdorfer@queer-pack.com
Facebook: www.facebook.com/Katja.Kohlsdorfer