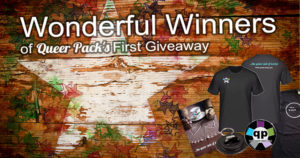 Queer Pack's first giveaway was a roaring success. Thank you so much to everyone who entered, shared, and got excited with us. We had a lot of fun reading about the types of stories you all want to read more of.
It's really exciting to see how many people are as keen as we are to see more diversity within their stories. So many comments included seeing more genderqueer (including trans and non-binary) and other sexualities (including ace and poly), and that's just fantastic, as this is what Queer Pack is all about. We want to see all those under the queer umbrella represented and are excited to start bringing you all these stories.
So, on to the winners.
*drumroll*
We're happy to announce:
T-shirt (Queer Pack t-shirt or the Non-Binary Femme shirt): Julee Sims; Val.
E-book of Ylva Publishing with queer or trans side-characters (Flinging It by G Benson, Fragile by Eve Francis, Backwards to Oregon by Jae): Clarissa S.; Tracy Fort; Rebekka Mumm; Helma; Barbara.
Note book with our Queer Pack logo: Amy Herman-Pall; Catherine Lane; Sarah Kerry; Karen McIntosh; Debby Ladiges.
Bottle opener with our Queer Pack logo: Devlyn; Rocío Toboso F; Trish; Sabine; Lisa Skriver.
You lucky people will be notified by us.
Thank you again so much for participating!